For patients seeking a non-invasive solution to their hair loss, there is nothing in the market quite like Tricopat™. Eliminating the need for needles, transplants and other invasive hair loss treatments, Tricopat™instead uses Tricogenesi® methodology – the delivery of hair growth factors into the scalp tissue using a pain-free Skin Patting™ process – to encourage the growth of new hair. Patients undergoing the Tricopat™ protocol need only have one session every three weeks, for a total of just four treatments to see results.
As for the treatment, it involves four seamless yet powerful steps. Controlled micro-incisions are made to the skin, stimulating the body's natural wound healing process. Radial pressure waves are then directed to the scalp to enhance blood microcirculation, engaging the cellular metabolism that is essential for optimal absorption of active ingredients. The process of ionophoresis then occurs, relaxing the pores of the skin and delivering the growth factor-rich Hair Factor treatment into the activated tissues. Lastly, an LED light emission stimulates the production of fibroblasts and elastin in the skin, optimising the procedure's efficacy and improving the appearance of the treated area.
The growth factor nutrients used in Tricopat™ are vital to the treatment's success, and no less than three are used in the protocol's Hair Factor serum. Vascular Endothelial Growth Factor (VEGF), Epidermal Growth Factor (EGF), and Keratinocyte Growth Factor (KGF) deliver key nutrients to the scalp, to restore the proteins and functionality of the patient's compromised dermal and hair follicle systems.
Unlike other clinical scalp treatments, Skin Patting™ is safe, minimally-invasive and painless, making it an obvious choice for patients wanting to avoid recovery and downtime.
Before and After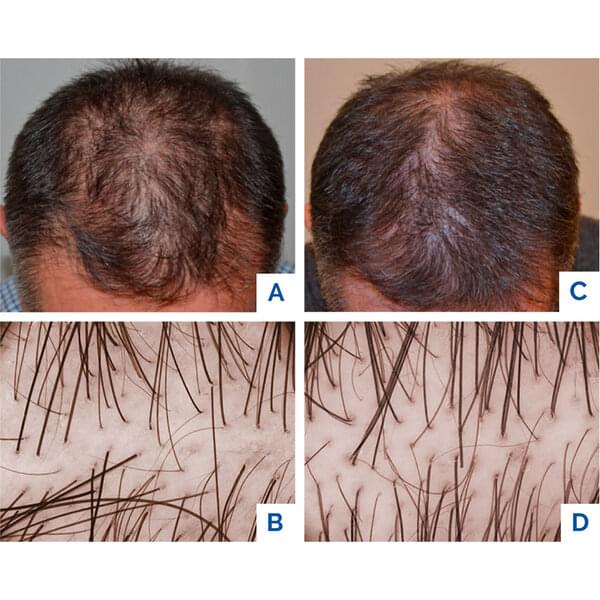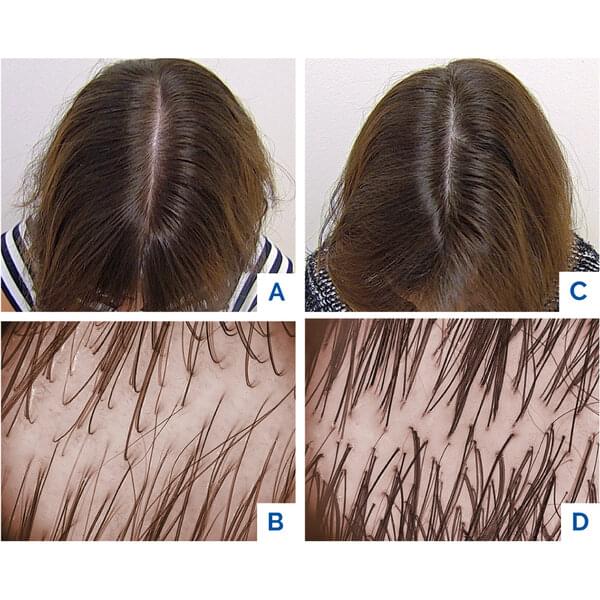 10 males and 10 females underwent the Tricopat™ protocol, with all demonstrating an improvement after the four treatment sessions.
PATIENT EVALUATION
• 11 patients showed significant improvement
• 9 patients showed moderate improvement
To find out more about this game-changing new treatment for hair loss, visit our website or contact us today.